AINS Group
The AINS Group story
The AINS Group has left its mark on the built environment for over six decades, responsibly and always striving to improve.
Based in Finland, the AINS Group is owned by Finnish private equity company Vaaka Partners together with partners who work for the company.
Founded over six decades ago, the small civil engineering company with just two people grew into a multi-disciplined construction engineering and consulting company. Today, the AINS Group is one of the largest structural engineering companies and a leading construction management company in Finland.
AINS GROUP IN NUMBERS
Number of personnel: 820
Turnover: EUR 81 million (2020)
3 business sectors: construction management, structural engineering and civil engineering
Number of locations: 12

NPS: 56 (2019)

Number of projects: 3,800 (2020)
Better housing for people migrating to cities
The story of AINS Group began in 1959 when two civil engineers from Tampere, Kalevi Ahonen and Pentti Palenius, wanted to design better housing for people. The idea was to try using prefabricated elements that were as complete as possible in construction. There were no standards for building with elements in those days, so those had to be created.
Their enthusiastic approach to innovation and the housing construction boom resulting from migration to cities put the Ahonen-Palenius engineering company firmly on a growth path.
Civil engineers behind AINS
After the first few years, Reino Ilveskoski joined the company and became the other shareholder with Kalevi Ahonen. The name of the engineering company, Ahonen-Ilveskoski, was soon abbreviated to AI.
The abbreviation remained an integral part of our identity, and in early 1980, the name of the company was changed to A-Insinöörit, AINS Group in English.
Pioneers developing solutions and models for construction
Along with enthusiasm, high-quality work and good customer relationships, the company's growth has been boosted by acquisitions. Reputable engineering companies Turun Juva, Porin Juva, Joensuun Juva, Saanio & Riekkola, B+Tech, Prodeco and Prodeco Lappi have joined the AINS Group during the 2010s.
Even today, we help estate owners, developers, builders, development companies, designers and housing companies to achieve better and bolder construction. We employ a pioneering approach to developing solutions and methods for construction – from data-based design methods to collaborative construction projects.
Our extensive offering of technical design and project know-how includes specialist expertise in acoustics, building physics, rock engineering, seismic design and long-term safety.


"Challenging the customer in just the right way. Development orientation. Professionalism."
Customer survey 2019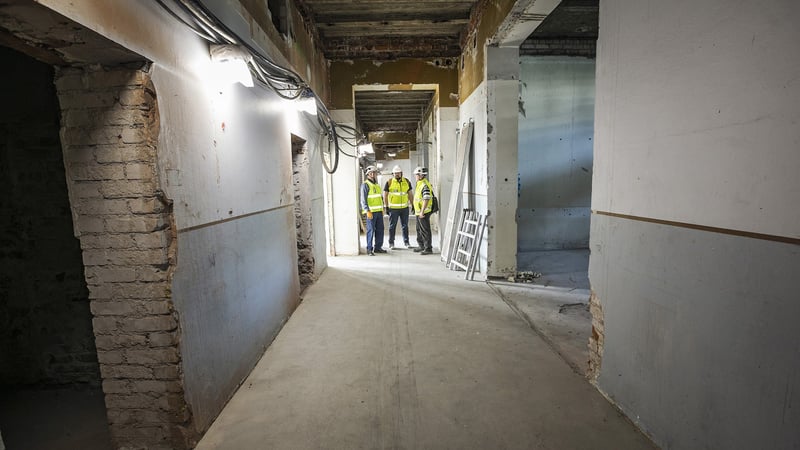 Building the Näsinneula Observation Tower in the 70's (picture credit: Särkänniemi Theme Park)
MILESTONES
1959: Engineering company Ahonen-Palenius is established
1964: Name changed to Ahonen-Ilveskoski after a change in shareholders
1973: Näsinneula Observation Tower, Tampere
1982: The company name was changed to A-Insinöörit (AINS Group)
1986: Metso main library, Tampere
1986: Operations launched in the Helsinki capital region
1990: Tampere Hall
2000: Sibelius Hall
2008: Acquisition of Turun Juva Oy
2011: Acquisition of Porin Juva Oy
2011: Helsinki Music Centre
2014: Acquisition of Saanio & Riekkola Oy
2017: Acquisition of Prodeco
2018: Acquisition of Joensuun Juva Oy
2018: Väre, the School of Arts, Design and Architecture
2019: 60th anniversary
2020: Vaaka Partners as new partner