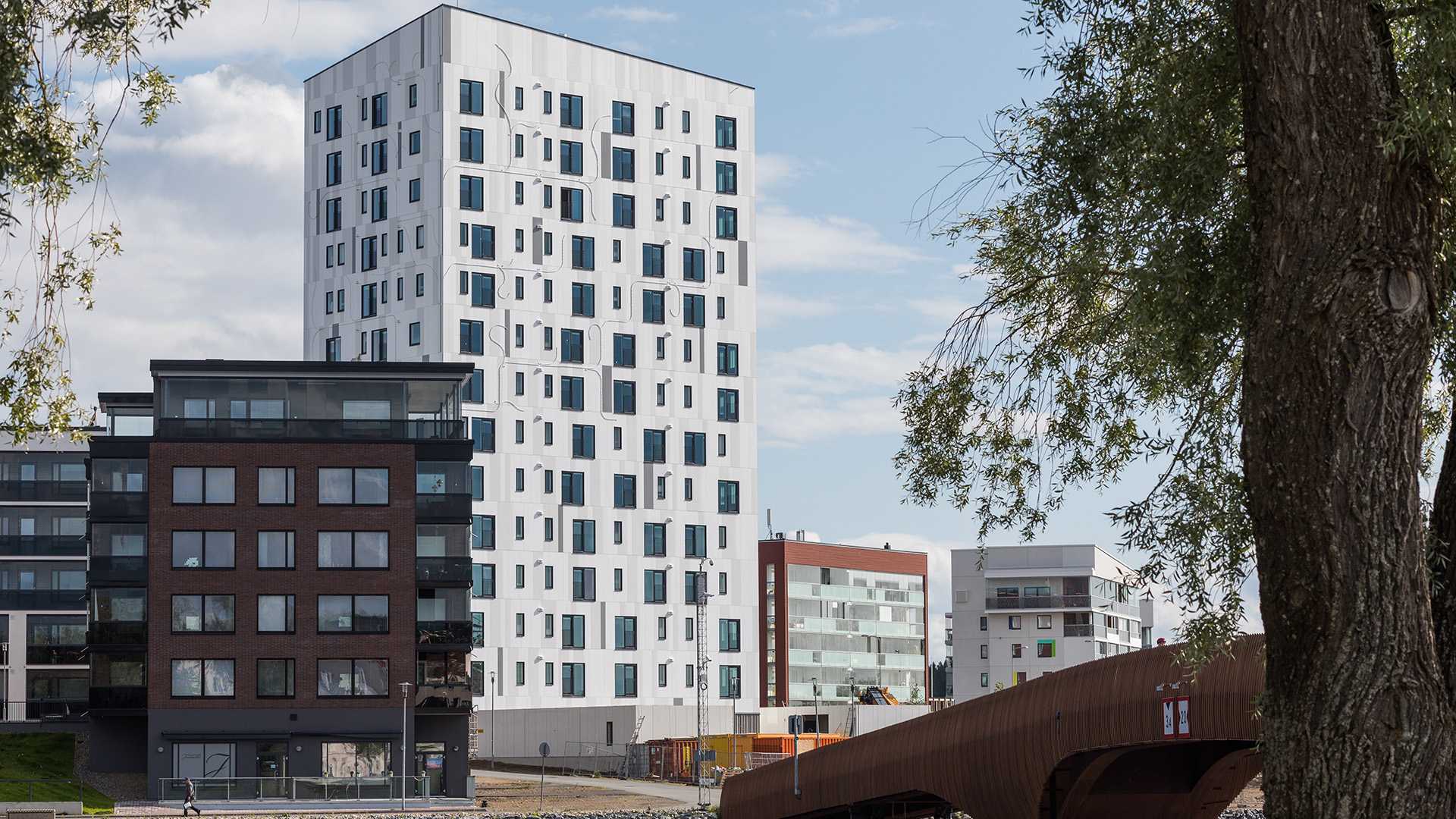 News
RIL Award 2019 to Lighthouse designed by AINS Group
Lighthouse in Joensuu has been recognised as the year's most outstanding civil engineering project, thanks to its innovation in the field of wood construction. AINS Group was responsible for the bold structural engineering of this wooden 14-storey high-rise residential building for students located in Pentinkulma, Joensuu.
This year, the winner of the RIL Award was selected by Juha Sipilä, the former Finnish prime minister who has an engineering background. He stated that as Finland's tallest wooden building and the world's tallest steel rod-braced wooden building, Lighthouse represented true innovation in the field of civil engineering. The winner of the annual prize awarded by the Finnish Association of Civil Engineers (RIL) was announced at the House of the Estates in Helsinki on 21 November 2019.
In the project, AINS Group played a major role in the development of innovative structural solutions and the promotion of Finnish wood construction expertise.
– The structural engineering involved creating new solutions in the areas of strength, load capacity, subsidence and fire safety. Pretty much every employee at our Joensuu office was involved in the design project in some way, says head of business unit Tomi Rautiainen, who was responsible for the structural engineering of the Lighthouse project.
– Lighthouse was braced with tension rods, which hadn't been done before in Finland, or elsewhere in Europe. In Finland, tension rods are used in the construction of parking facilities and bridges, but this is the first time that they have been used to brace a wooden high-rise building.
The developer of the 14-storey wooden residential building was Student Housing Company Joensuun Elli. New construction and fire safety solutions were developed during the project. Each storey was assembled in a tent erected on the plot before the elements were lifted into place and protected with a temporary ceiling.
The building houses 117 student flats. Rakennustoimisto Eero Reijonen acted as the main contractor, architectural design was carried out by Arcadia, and Granlund Joensuu was responsible for building technology.
The Finnish Association of Civil Engineers grants the annual RIL Award to a project that represents top-class, high-quality and innovative Finnish civil engineering expertise. In this year's tight competition, two projects from the capital region shared second place: the design of the European Chemicals Agency building in Telakkaranta in Helsinki, and the renovation project of the Tikkurila dam and stream in Vantaa.
For further information, contact:
Tomi Rautiainen, head of business unit, structural engineering, AINS Group
Tel. +358 50 540 7015
tomi.rautiainen@ains.fi