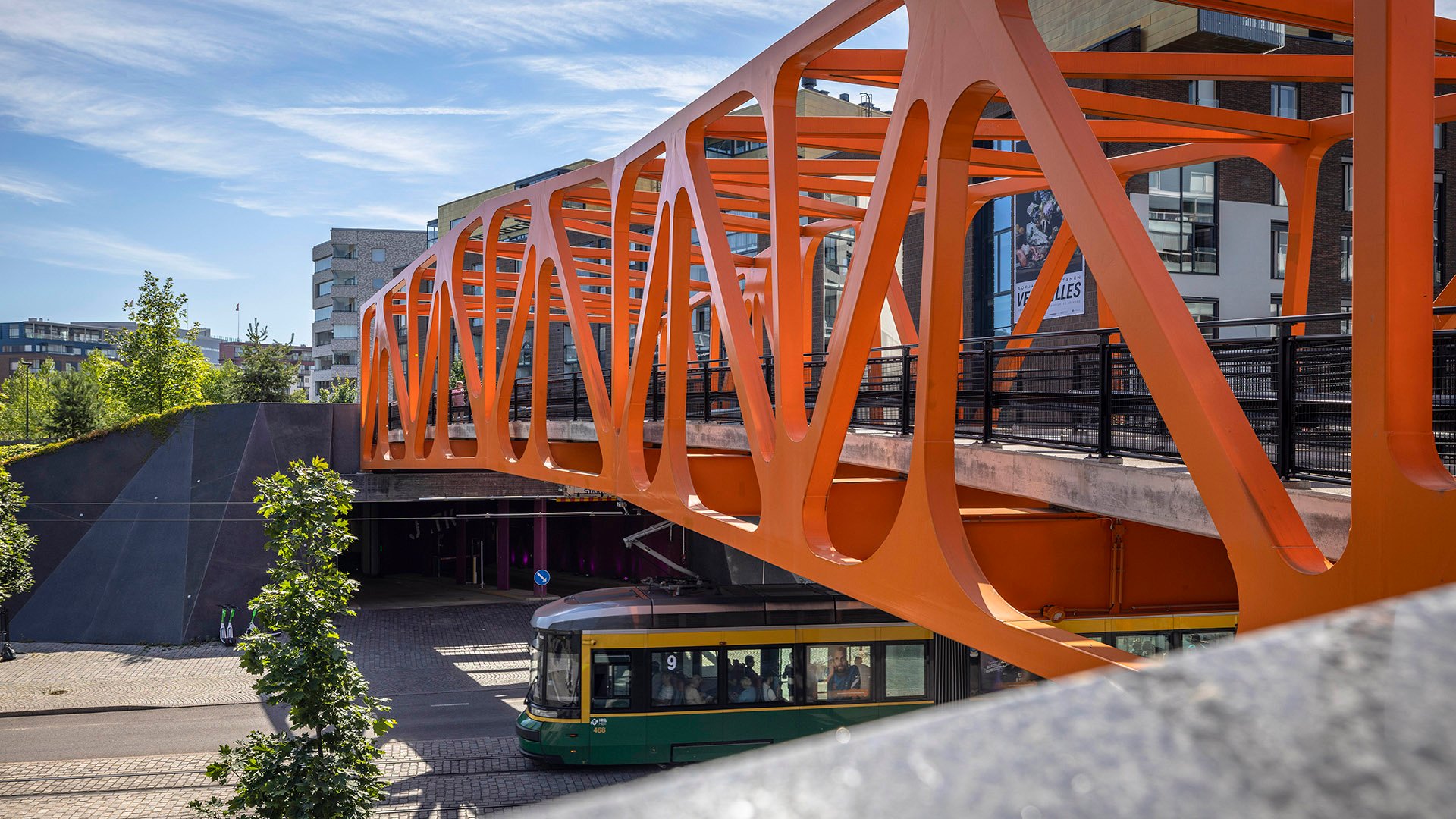 News
Rokkiporkkana Bridge in Jätkäsaari named Bridge of the Year 2023
The visually striking bridge over Välimerenkatu in the Jätkäsaari district of Helsinki has been recognised for the high quality of its design and construction. Known as Rokkiporkkana, the bridge has become a symbol of the new urban district, connecting its parks and providing a safe way to walk and cycle to the waterfront. AINS acted as the technical designer of the bridge.
The jury of the Finnish Association of Civil Engineers (RIL) awarded the bridge for its thoughtful and successful design and for the role it plays in developing the district and the surrounding urban landscape.
The technical design of the bridge is by Ponvia, the Oulu-based bridge engineering company of the AINS Group, and the architectural design by VSU Landscape Architects.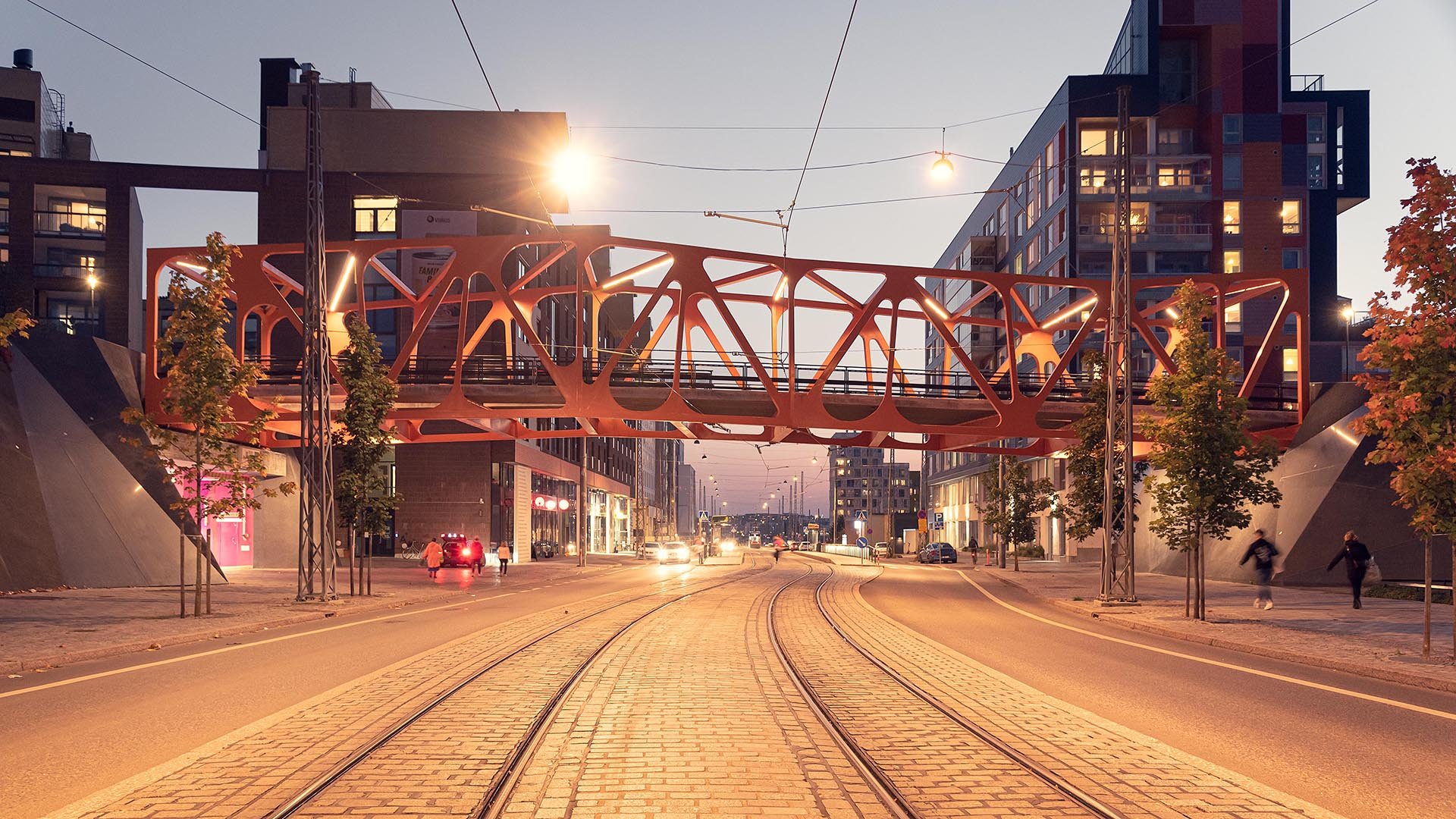 The organic, multi-dimensional shape of Rokkiporkkana Bridge created its own challenges for the engineering design.
Situated in a prominent location in Jätkäsaari, the wider-than-usual footbridge connects Hyväntoivonpuisto and Selkämerenpuisto. With its bright orange profile, Rokkiporkkana has already become a landmark, symbolising the urban lifestyle and environment of Jätkäsaari.
– Hyväntoivonpuisto is a very important green space for the residents and the role of the bridge is much more than just a link from A to B. From the start, we wanted the bridge to tell a story. The organic, multi-dimensional shape created its own challenges for the engineering design. Almost every corner of the steel structure is unique and individually dimensioned, says Tuomo Järvenpää, Bridge Engineer and Unit Director at Ponvia.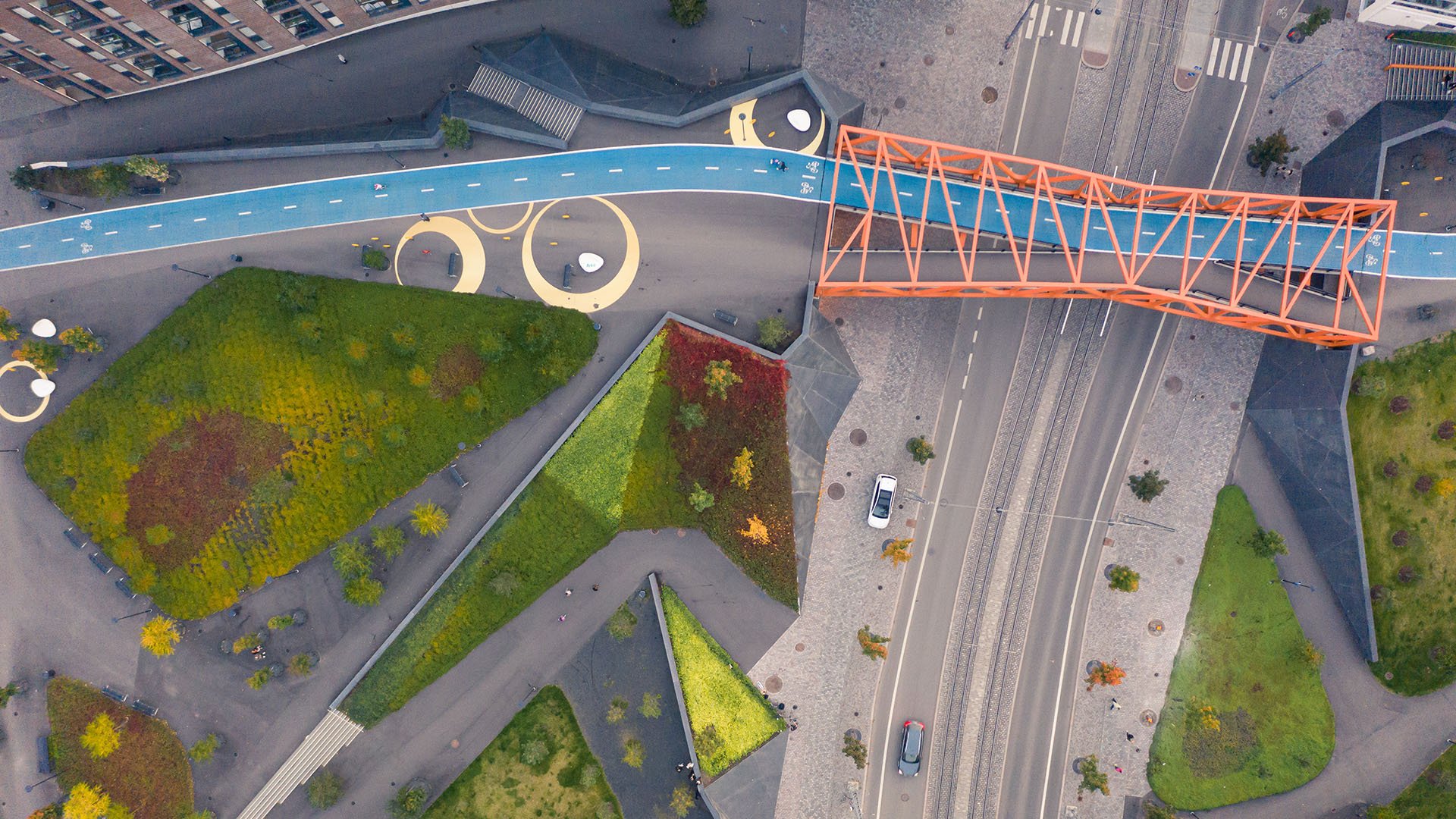 The architecture of the Rokkiporkkana Bridge is linked to the idea behind Hyväntoivon puisto, the story of the Orc, a creature that lives underground in the park. Photo: Hannu Rytky
The concrete-covered steel truss bridge is 44 metres long and varies in width. Due to its multi-dimensional geometry, the structures were not designed using traditional drawings. Instead, the bridge and its unique artificial retaining walls were designed entirely digitally using computer modelling. The structural design of the bridge was carried out using 3D FEM structural models.
– We imagined the footbridge as the orange spine of the Orc rising from the ground. We also designed the colour scheme and aesthetics of the bridge to reflect the history of the area, its maritime containers and harbour cranes, says Outi Palosaari of VSU Landscape Architects, the bridge's architect and co-principal designer of Hyväntoivonpuisto.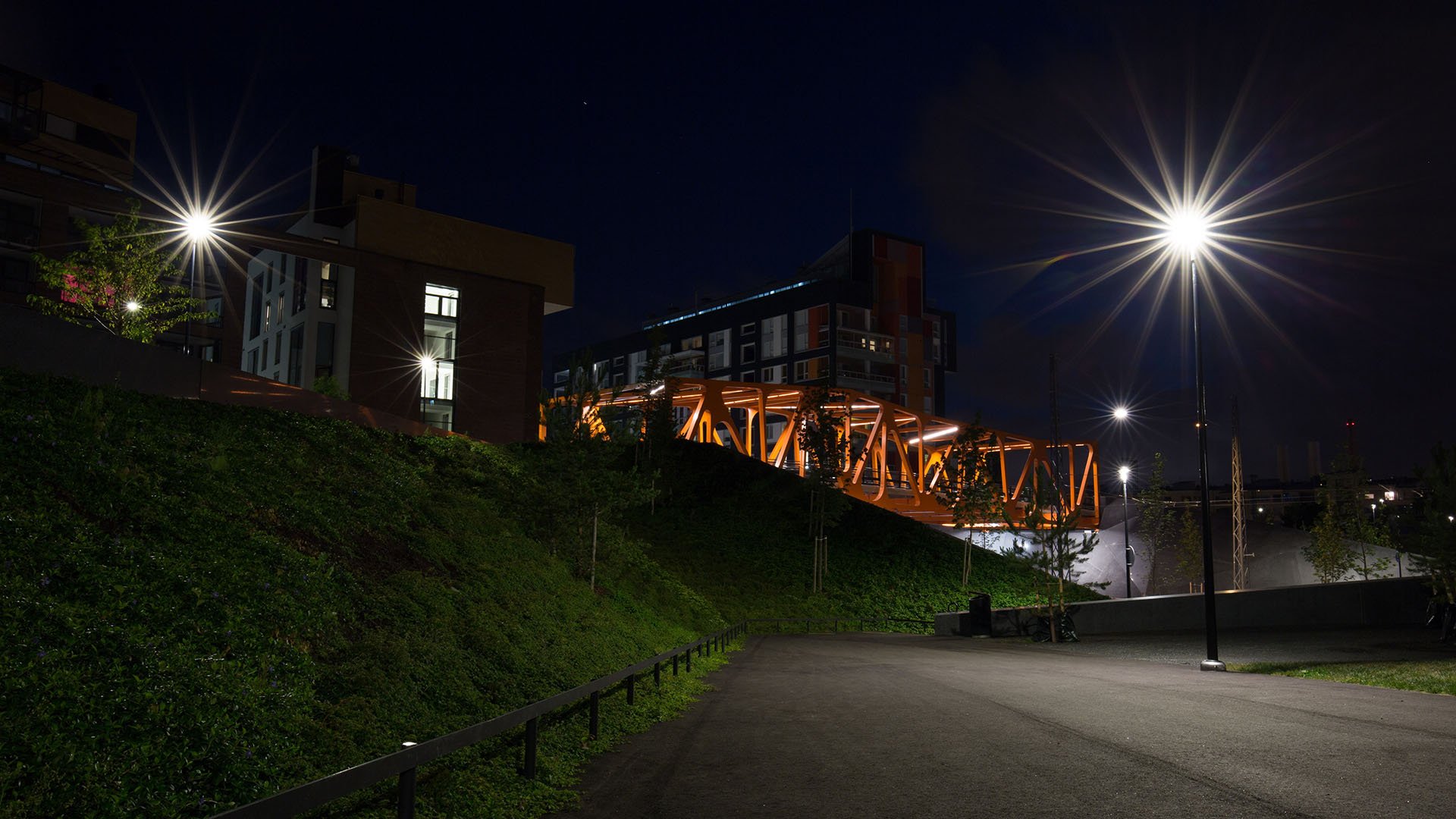 Rokkiporkkana lights up its surroundings during the dark hours.
Opened in 2018, the bridge's superstructure is illuminated by LED strips on the trusses, and the substructure is floodlit, making the bridge a spectacular sight in the dark. AINS was responsible for the lighting and road design, while GRK Finland was the main contractor for the bridge.
By the end of this year, the award-winning Rokkiporkkana bridge will be paired with a similar bridge designed by the same team to cross Länsisatamankatu, south of Hyväntoivonpuisto.
Further information:
Tuomo Järvenpää, Unit Director, AINS Group
Tel. +358 40 338 6540
tuomo.jarvenpaa@ains.fi
Outi Palosaari, Managing Director, Architect, VSU Landscape Architects
Tel. +358 40 718 8336
outi.palosaari@vsu.fi