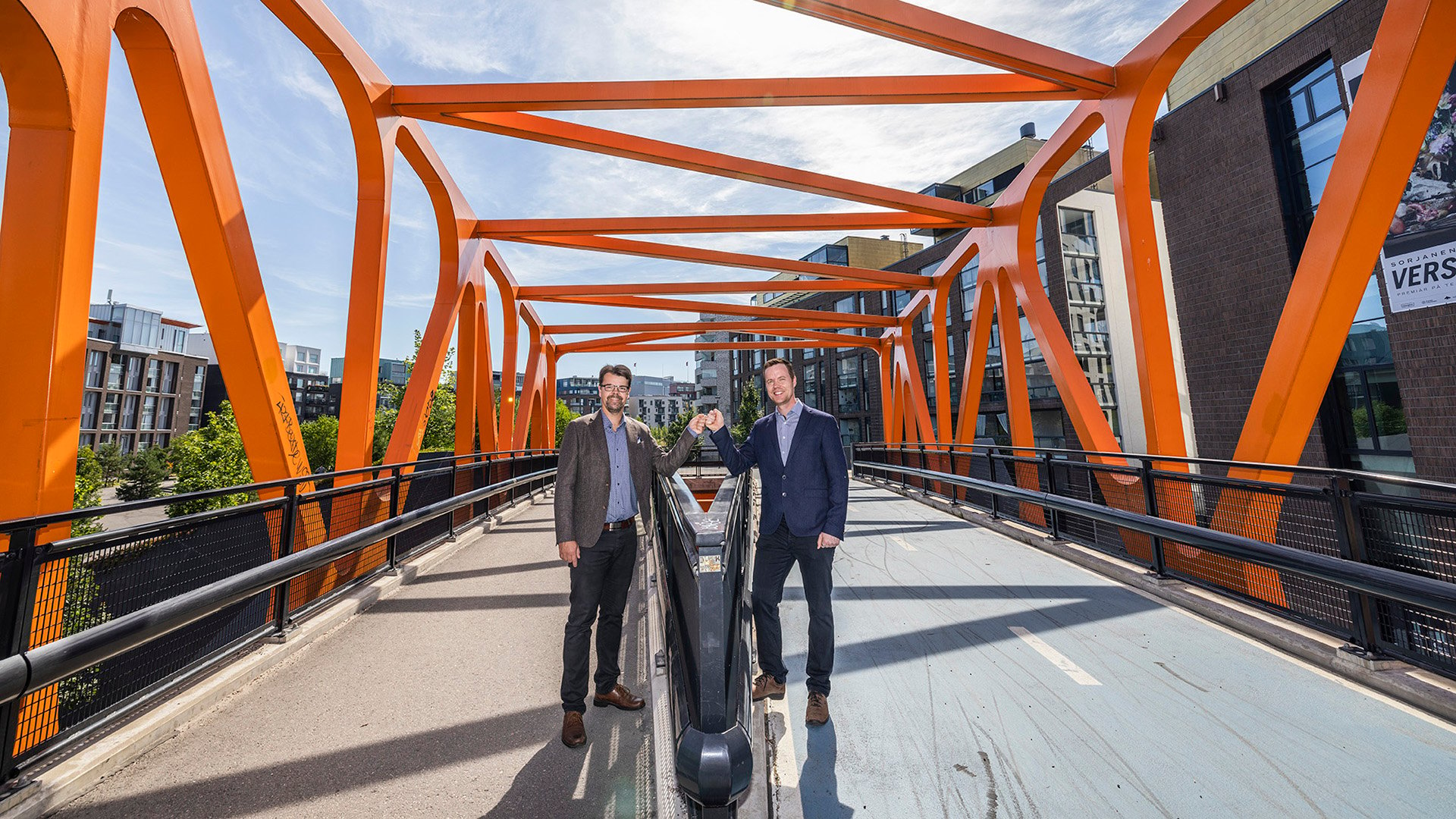 News
Bridge, water and port engineering company Ponvia to become part of AINS Group
AINS Group has strengthened its infrastructure engineering service portfolio through the acquisition of all the shares of Ponvia Oy, an Oulu-based company specialising in bridge, water and port engineering. With the successful merger, AINS Group's engineering and consulting branch in Oulu emerges as a 160-strong team of built environment specialists.
The nationwide design and consultancy company AINS Group has acquired the remaining shares of Ponvia Oy, a company specialising in bridge, water and port engineering. AINS Group acquired the majority of Ponvia's share capital at the beginning of June as part of the acquisition of the civil engineering company Plaana Oy.
An organisation of 20 experts, Ponvia's award-winning projects include Vekaransalmi Bridge in Sulkava (Bridge of the Year 2020) and Hyväntoivonpuisto gardens in Jätkäsaari, Helsinki (Environmental Structure of the Year 2020).
"Ponvia is a highly respected, quality-driven design partner whose values and competences are a great fit for AINS Group's client and growth expectations. We will continue to strengthen our capability to serve as the trusted partner in demanding large-scale civil engineering projects. Ponvia adds new water and port engineering expertise to our service portfolio," says Vesa Järvinen, Senior Vice President, Civil Engineering.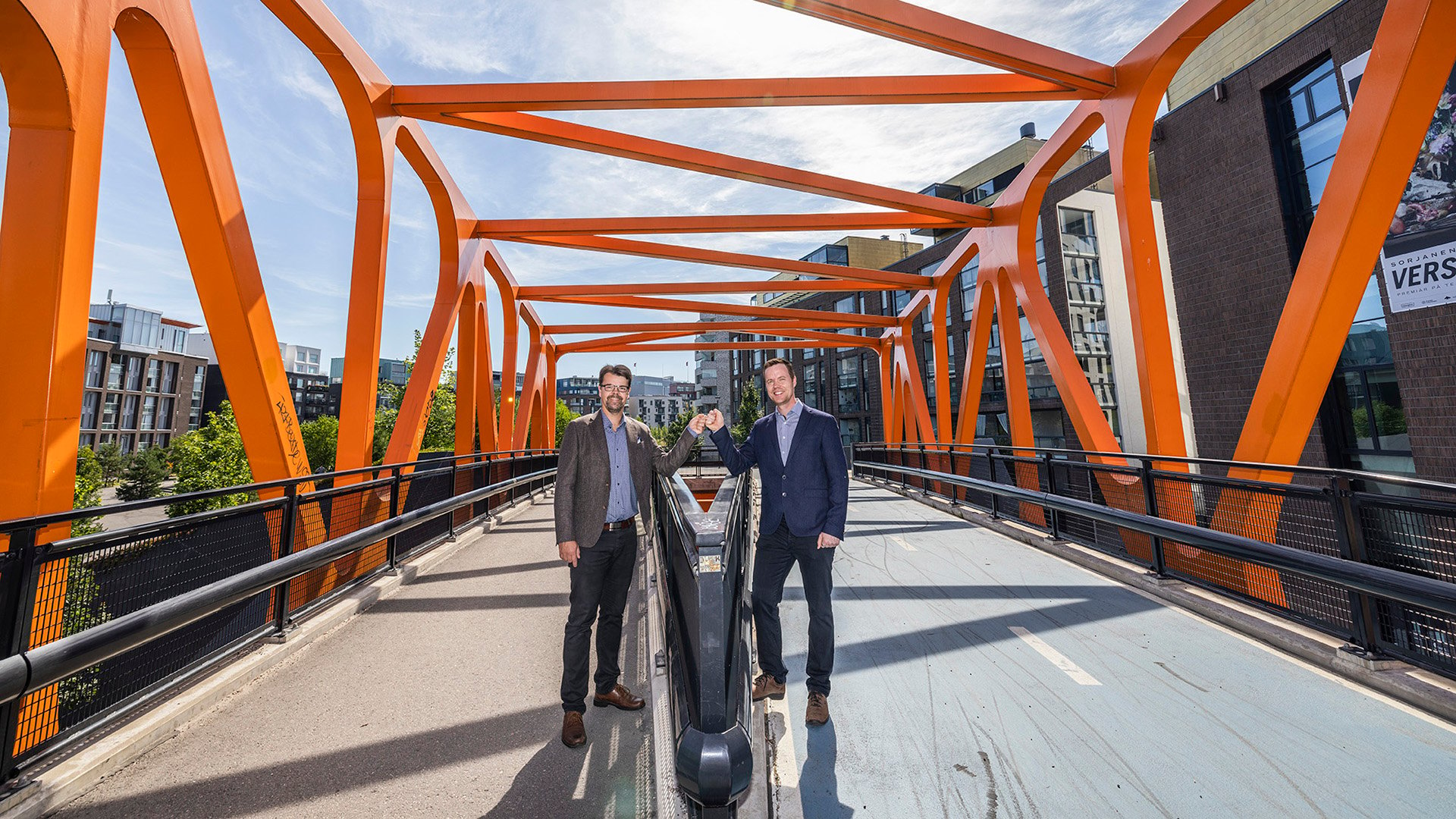 Senior Vice President Vesa Järvinen, and Ponvia's former managing director Tuomo Järvenpää, who will continue as a unit director at AINS Group, pictured on Rokkiporkkana Bridge in Jätkäsaari. The structural design for the bridge was carried out by Ponvia.
Established in 2005, Ponvia's services include structural design as well as construction and project management services. Ponvia is currently working on the designs of the Hailuoto causeway in the Oulu region and the waterside and special structures for the 2025 Vaakunakylä Housing Fair development.
"Together with AINS Group and Plaana (which became part of the group earlier) urban, infrastructure, road and environmental designers, we will be able to offer extensive design solutions as a one-stop concept throughout Finland, including large-scale high-profile projects," says Tuomo Järvenpää, CEO of Ponvia, who will join AINS Group as a unit director.
Ponvia will continue its operations under the same trade name, as a bridge and waterway engineering unit within AINS Group's civil and environmental engineering business unit. All Ponvia's experts will continue at AINS Group as existing employees, and the former owners will also continue their involvement in the company.
Through its recent acquisitions (Ponvia, Plaana, Silvea and Airlon), AINS Group has expanded into a service company of 160 professionals in the Oulu region, offering consultancy and expertise in structural design as well as building services, civil engineering and bridge and water engineering.
The acquisition of the remaining shares was finalised on 5 August 2022. The merger with A-Insinöörit Civil Oy, a AINS Group company, will take place at a later stage.
For further information, contact:
Vesa Järvinen, Senior Vice President, Civil and Environmental Engineering, AINS Group
Tel. +358 40 652 9898
vesa.jarvinen@ains.fi
Tuomo Järvenpää, unit director, Ponvia – an AINS Group company
Tel. +358 40 338 6540
tuomo.jarvenpaa@ponvia.fi